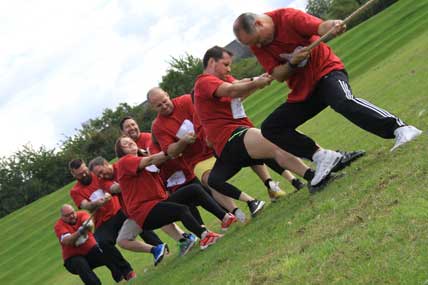 The way we work in our society is not conducive to staying fit and healthy. Being cooped up in an office for eight hours sitting at a desk hardly encourages us to get our 10,000 steps per day!
This is exactly why we want to encourage more companies to offer opportunities to their employees to stand up and be active.
Spending so much time at work can have a negative influence on our behaviour, whereas being healthy makes us happy and encourages positive changes in people's attitudes towards health and wellbeing.
This is how our idea of a sports day came about, and we decided to call it the "Gripple Bank Holiday".
One day a year, the 400 Sheffield-based Gripple employees gather for this event at Don Valley Bowl on Sheffield Olympic Legacy Park. There is no other opportunity for all these employees to come together, have fun and keep fit so this is a fantastic chance to encourage team building exercises and socialising.
Although we have the stereotypical egg and spoon race, we like to think outside the box with our activities! We get creative and invent our own sports such as "sausage walking" which involves a team of four people using a giant space hopper to carry an inflatable across a course.
However, one day a year isn't going to make major changes to people's lifestyle and their attitude towards fitness. So, at Gripple, we have dedicated two days a week to fitness; every Tuesday at 5:30pm we run 45-minute activity sessions together with free Zumba lessons every Saturday. Let's not forget our "free fruit Fridays" in a bid to curb people's sweet tooth.
We also have our very own annual "Healthy Week" which has been very successful the past two years.
The company invites employees from eight organisations to give advice on how to drink less, stop smoking, and lose weight. This way, our staff have the chance to speak with professionals to gain advice, support and further information on how to improve their health.
We also hold meditation and relaxation sessions at the end of the week giving staff the chance to de-stress, wind down and prepare for the week ahead. After all, exercising is only part of the process towards a healthy and happy life.
Some activities take place at Gripple's training academy GLIDE House, which is close to Sheffield Olympic Legacy Park, and has a free gym open to all staff. GLIDE (Growth Led Innovation Driven Employee company) is a private company representing every member of the employee-owned Gripple group. Some of GLIDE's budget is dedicated to promoting health and wellbeing.
So, whether it's tackling an inflatable obstacle course, sausage walking or playing a game of football once a week, get up from your desk and get active. If we can do it, so can you!