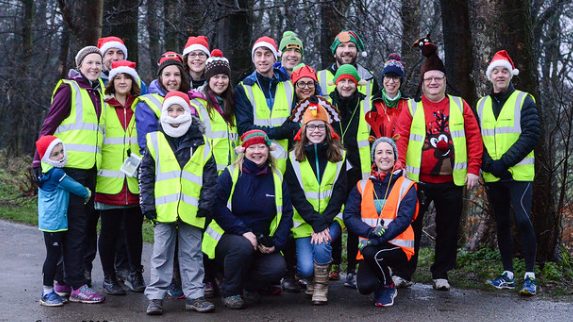 Sheffield Olympic Legacy Park is setting up a brand new junior parkrun and is looking for volunteers to join its core team – junior parkrun needs about 20 volunteers a week and this is a key milestone in getting a junior parkrun off the ground.
Many of us love parkrun on Saturdays at 9am and some of us have been lucky enough to experience the wonder and magic of Graves junior parkrun on Sundays at 9am. The quiet as the course is set up, then suddenly there are children everywhere – where did they all come from?
Children dressed in Hallamshire Harriers club strip, children dressed as batman and unicorns, children still in their pyjamas, children in hijab, children dressed in patent t-bars and their best party dress. Not to mention all the soft toys that accompany the children around the course …
We talk about placebo being 60% and you get to experience the magic of the placebo effect as children genuinely believe that the power of a high five from a marshal is going to get them up the hill. Amazingly, it does!
Some children are very, very fast and some children are just enjoying picking up the odd twig, having a sprint, walking, finding an interesting stone, chatting to the animals. For the fast children there is the competition for the top spots 1,2,3 boy and girl. For all children, fast and slow, they can work towards wrist bands for 10k, half-marathon, marathon, ultra-marathon.
Then when the children stop running, they run to the playground and do more running – fantastic.
Being a sympathetic marshal can make or break a child's first parkrun experience – you can make sure they have a brilliant morning, lots of smiles, cheers, high fives, encouraging them to have a little walk break or a drink, telling them they are looking so strong and confident.
This is the difference between young people wanting to come back next week or not. Sometimes children get a bit sad and you can tell them it's only a run with friends, if they want to stop after one lap they can, everybody has a bad week just come back next week and try again. Resilience is learnt at parkrun.
I honestly can't recommend it enough – sometimes I get jaded and lose my mojo as a runner. That's the time that I go back to junior parkrun to be reminded of the sheer joy of running and I tell myself, next time I'm at parkrun I may very well dress as a unicorn and high five the marshals …
Please consider signing up if you can make the regular commitment to support this new parkrun – it often takes a while before parents are confident enough to let their children run the course on their own and therefore it's really important to have plenty of non-parent volunteers as well.
Happy volunteering!