In a joint effort with NHS England and Education and Employers, Legacy Park Ltd and UTC Sheffield Olympic Legacy Park organised a successful careers event for 200 Year 9 students as part of the NHS 75th celebrations on Wednesday 5 July.
Sheffield Olympic Legacy Park offers an unrivalled opportunity for the UTC students, being co-located alongside major health, wellbeing and research organisations, and the careers event provided the ideal opportunity to highlight the connections and collaborations with some of those key stakeholders.
With a focus on showcasing NHS careers in Digital, Data, and Technology (DDaT), the event at UTC Sheffield Olympic Legacy Park provided an invaluable opportunity for young people to meet NHS Ambassadors and gain insights into their experiences and career journeys.
Several NHS and corporate partners were involved in delivering interactive workshops that highlighted different areas of work – an exemplary model of bringing together industry, NHS professionals, and education to tackle the challenges of the future workforce.
Among the diverse range of colleagues and organisations present were NHS South Yorkshire Integrated Care Board (NHS SY ICB), National Institute for Health and Care Research Children and Young People MedTech Co-operative (NIHR CYP MedTech), South Yorkshire Primary Care Workforce and Training Hub, Google Cloud, Amazon Web Services (AWS), LivingCare and AI start-ups.
LivingCare and Annalise.ai led an engaging workshop, focusing on their support for the NHS as LivingCare prepares to open a Medical Diagnostic Centre at Sheffield Olympic Legacy Park in the Park Community Arena, developed by Canon Medical Systems.
Helen Haigh, Radiology Manager at LivingCare, shared her personal journey into the world of imaging and MRI, discussing various pathways available to students and Tom Pickersgill from Annalise.ai demonstrated how AI can be utilised in imaging to detect early signs of cancer.
Another workshop "Accelerating the Future of Primary Care Training," was conducted by the South Yorkshire Primary Care Workforce and Training Hub in collaboration with UI3D.
Participants explored the evolving training routes for roles in a GP practice, including vocational and apprenticeship paths, as well as the emergence of new positions within the healthcare environment. The session addressed various issues and barriers faced by General Practice in providing training placements and highlighted the role of digital tools in overcoming these challenges.
In another session, AWS and NIHR CYP MedTech delivered an interactive workshop demonstrating the breadth of opportunities available in careers in technology within, and in support of, the NHS ranging from coding, to sports, to gaming, to everything in between.
The event also featured a collaborative workshop by NHS SY ICB and Google Cloud, further enriching the students' understanding of digital and technological opportunities in the health sector.
Commenting on the event, Kate Ambrosi, Baker Dearing Educational Trust Director of Education and Innovation said: "On the 75th birthday of the National Health Service, University Technical Colleges and the Baker Dearing Educational Trust are proud to be powering the NHS workforce with young, skilled professionals. UTC alumni are working across the health service in a number of different roles, helping to ensure that the NHS will continue to save lives for at least another 75 years.
"This careers event has helped to open students' eyes to the huge range of technical roles in the health sector, and in particular the NHS. It has also provided an opportunity to celebrate a special partnership between the NHS, UTCs, the Baker Dearing Educational Trust, UTC Sheffield Olympic Legacy Park and partners at Sheffield Olympic Legacy Park.
Jessica Stevenson, UTC Sheffield Olympic Legacy Park Principal added: "What better way to celebrate the 75th birthday of the NHS than by exciting the workforce of the future with its possibilities. Our students benefited greatly from exposure to such a wide range of career possibilities. As a result, we already have multiple spin-off projects. It is an incredibly exciting time to be based at Sheffield Olympic Legacy Park."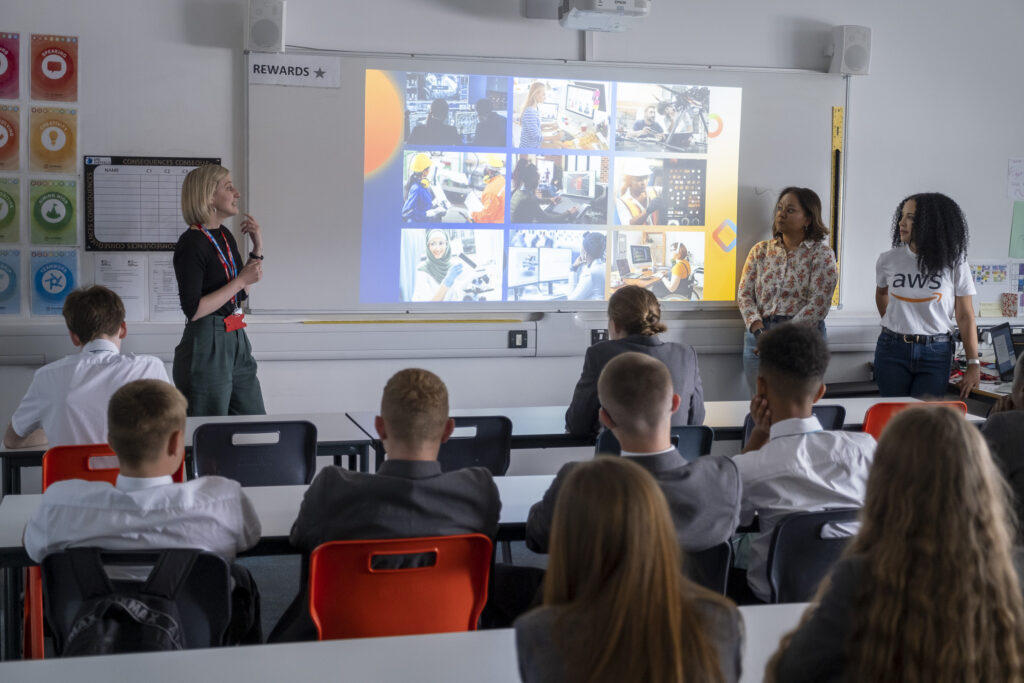 Pictured L-R: Gemma Wheeler, NIHR CYP MedTech, delivering a workshop with Namrata Das and Charlene Manning, Amazon Web Services.