Sheffield Hallam University's Advanced Wellbeing Research Centre (AWRC) has signed a Memorandum of Understanding (MoU) with Canon Medical Systems UK (Canon Medical UK) to enhance the development of research and innovation products which will help people move and improve population health.
It has been agreed that the collaboration will have a strong focus on physical activity, performance, health, digital healthcare, rehabilitation and tackling health inequalities. South Yorkshire will be the testbed for innovations, with successful interventions cascaded to other parts of the UK.
In addition to participating in the design and implementation of projects, Canon Medical UK will provide medical imaging equipment and expertise to the AWRC, facilitate match-funded opportunities for research staff and enable placement opportunities for students from across the University.
The four key areas of strategic collaboration include:
Understanding and improving clinical outcomes in patients
Improving global human health
Improving the clinical usefulness of medical imaging
Understanding and improving athletic performance
The collaboration will also link into ongoing Sheffield Hallam PhD projects in physical activity, digital health, sport Injury prevention and support research with patients with long term conditions.
Jason Brannan, Deputy Director of Sheffield Hallam's Advanced Wellbeing Research Centre said: "Canon Medical UK have been a keen supporter of AWRC since our inception and are very much engaged in our vision of Transforming Lives through innovations that help people move. This important agreement will allow us to work in collaboration across a five-to-ten-year time horizon to exploit the remarkable potential of Canon's emerging Integrated Diagnostic Research Centre here on the Sheffield Olympic Legacy Park."
The team from Canon Medical UK visited the Advanced Wellbeing Research Centre, based at the Sheffield Olympic Legacy Park, earlier this week to sign the MoU.
Mark Hitchman, Managing Director of Canon Medical Systems UK, said: "Providing accessible healthcare and empowering innovation remain at the heart of everything we do at Canon Medical UK. That is why we are thrilled to be partnering with Sheffield Hallam University's AWRC, to facilitate vital research into sports injury and human health across Sheffield and beyond.
"By leveraging over 100 years of medical expertise, Canon Medical's full range of diagnostic medical imaging equipment including CT, X-Ray, Ultrasound and MRI will ensure the AWRC's staff and students are equipped to tackle the challenges of contemporary sports and clinical medicine. Supporting this vital work will garner the crucial data needed to improve health outcomes and save countless lives.
"Our shared commitment to tackling health inequalities across Sheffield and the UK means we can provide direct support to local athletes and wider communities, to enable the early detection, prevention and faster rehabilitation of injury and illness. We look forward to extending our longstanding relationship with Sheffield Hallam University – to unlock potential and progress diagnostic innovation for future generations."
It follows the recent announcement that Canon Medical Systems is to develop a carbon-neutral built community arena with multi purpose sports facility and integrated Medical Diagnostic Centre, at the Sheffield Olympic Legacy Park.
Canon Medical Systems UK is a leading supplier of high-quality medical imaging equipment for a wide range of clinical specialties. Part of the wider Canon Group, Canon Medical UK provide medical professionals with solutions that support their efforts in contributing to the health and wellbeing of patients worldwide.
The £16 million Advanced Wellbeing Research Centre is dedicated to improving the health and wellbeing of the population through innovations that help people move. Its mission is to prevent and treat chronic disease through co-designed research into physical activity, whilst also attracting new jobs and investment to the region.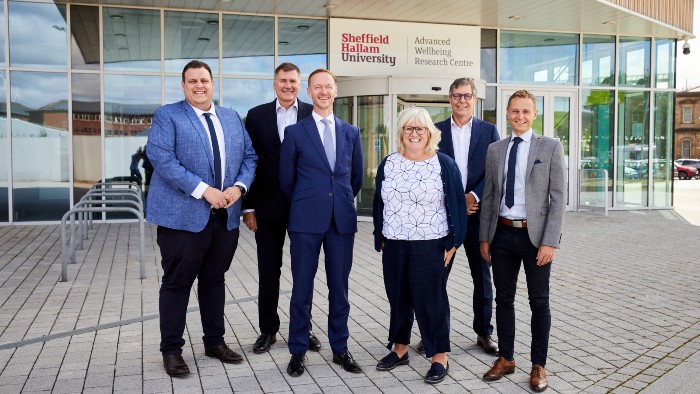 L-R Dr Tom Maden-Wilkinson (Senior Research Fellow, AWRC), Ian Watson (Director, Canon Medical Systems), Jason Brannan (Deputy Director, AWRC), Dr Toni Schwarz (Dean, Sheffield Hallam University), Mark Hitchman (Managing Director, Canon Medical Systems) , Prof. Rob Copeland (Director, AWRC)