An ambitious new digital healthcare hub in South Yorkshire is set to lead the UK's digital health revolution and address inequalities in patient care.
Led by the University of Sheffield and Sheffield Hallam University, the £4 million South Yorkshire Digital Health Hub will improve peoples' health and quality of life by creating innovative digital health tools that fuse data from daily life activities with NHS data.
Launched on 24 October 2023, the centre brings together partners from across the region including: hospitals, GPs, mental health services, businesses, the South Yorkshire Integrated Care System and patient and public groups to develop technologies to address the stark health inequalities across South Yorkshire and lead the UK in the evolving digital health sector.
South Yorkshire has some of the worst health outcomes in the country, with life expectancy lagging behind the national averages and cancer outcomes the third worse in England. The region also faces challenges in access to care and poor health infrastructure.
Tackling inequality is at the core of the South Yorkshire Digital Health Hub's mission using cutting-edge data analytics, AI and mobile health monitoring to diagnose diseases earlier and make treatment more targeted and effective.
Director of the South Yorkshire Digital Health Hub, Professor Tim Chico from the University of Sheffield's School of Medicine and Population Health, said: "Accurate and early diagnosis is crucial for the prevention and treatment of disease. Digital data collected by technologies in our daily lives, such as the number of steps we walk, or the number of hours we sleep, is an unused source of information. Integrating this with routine healthcare data such as treatments, medication or hospital procedures can lead to healthier lives and better care for patients. This personalised approach could also reduce costs for the NHS.
"People in South Yorkshire are affected by widening health inequality and high levels of disease, including heart and lung disease, cancer and mental health issues.
"We are bringing together the right people – including patients, doctors, health professionals, industry, academics and the general public to find out what digital tools they need. By bringing together all these partners, the Hub will create a pipeline of ideas, projects and products suitable for use in the NHS to improve health outcomes, especially for marginalised groups."
Sheffield Hallam University's Professor Steve Haake, Deputy Director of the Digital Health Hub, said: "This is a really exciting opportunity for the region and a chance for us to lead the UK in digital health.
"The task isn't simple: we want to create tools that take in everyday lifestyle information and integrate it with their healthcare records, all the while preserving their privacy and making it accessible for those who might struggle to use digital health tools.
"In just a few years, we should have a bubbling pipeline of potential products ready to be used in the NHS, designed by the very people they intend to help – patients."
With South Yorkshire set to become the UK's first Investment Zone, creating an expected 8,000 new jobs and bringing £1.2bn of private investment by 2030, the Digital Health Hub is well-timed to build on momentum within the region's fast-evolving cluster of digital health innovation. It is based at Sheffield Hallam's cutting-edge Advanced Wellbeing Research Centre, which forms the centrepiece of Sheffield Hallam's Health Innovation Campus.
Oliver Coppard, Mayor of the South Yorkshire Combined Authority, said: "I am determined to tackle health inequalities in South Yorkshire. We know that a baby born today in Rotherham will, on average, die five years earlier than a baby born on the same day in the London Borough of Richmond. That is a personal tragedy and a national travesty. Worse, it holds us all back: the health of our economy is dependent on the health of our communities.
"I'm delighted to see partners from our universities and the NHS working together to create a better approach to early diagnosis, prevention and treatment of illness – using the digital tools that we all have in our pockets.
"South Yorkshire has the chance to be a leader and an example to the country in tackling these health inequalities. That is why the launch of the Digital Health Hub is so important: it shows that we have the talent, the ambition and the capacity to take action ourselves. We cannot wait for others to fix the problem for us."
Sheffield is one of five hubs across the UK to be awarded part of £16.5 million from the Engineering and Physical Sciences Research Council (EPSRC). The hubs are part of a wider £36.5 million investment in healthcare technology from EPSRC.
The South Yorkshire Digital Health Hub is part of the Insigneo Institute at the University of Sheffield and the Advanced Wellbeing Research Centre at Sheffield Hallam University.
The Hub was launched at Sheffield Hallam's Advanced Wellbeing Research Centre on Tuesday 24 October. The launch event brought together Hub partners and stakeholders to strengthen working relationships and provided guests with an understanding of the healthcare missions of the region and how the Hub supports these.
For more information about the South Yorkshire Digital Health Hub, please visit: www.sheffield.ac.uk/sydhh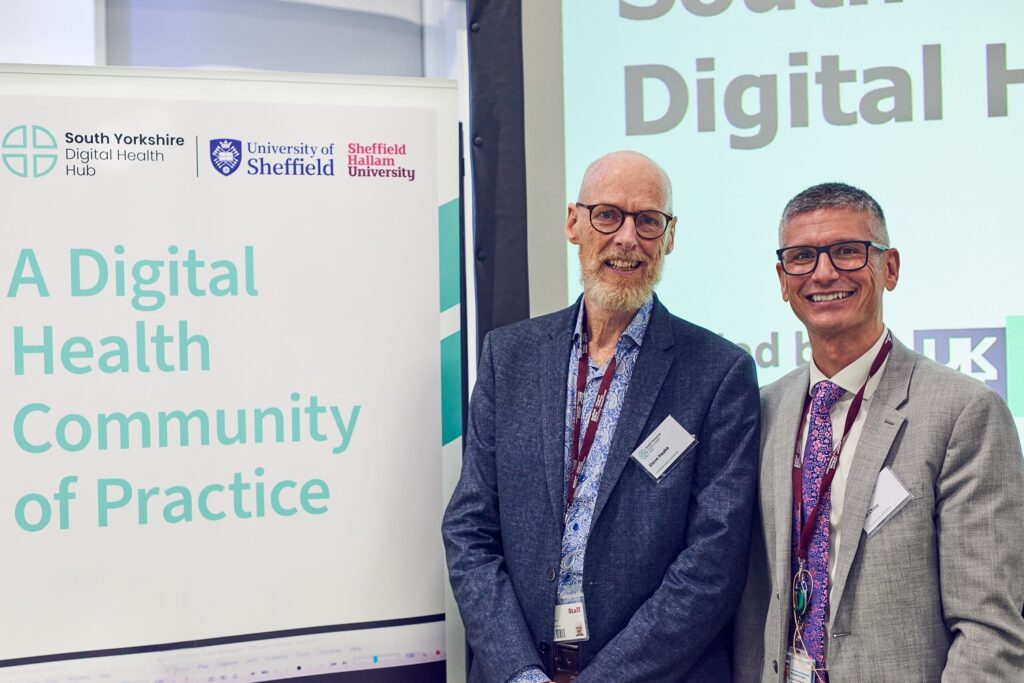 Professor Steve Haake and Professor Tim Chico