Students at UTC Sheffield Olympic Legacy Park are celebrating a strong set of academic and technical results today.
At the technical school for 13 to 19-year-olds, which is Ofsted graded 'good', students complete A Levels and technical qualifications in computing, health sciences or sport science.
The technical qualifications are equivalent to between one and three A Levels.
This year, 63 students sat exams. The technical qualification pass rate is 100%. The average grade of students who are studying technical qualifications is a distinction.
At the UTC, many of the students completed A Levels alongside their technical qualifications allowing them to access a broad range of universities and apprenticeships.
Students are progressing to a range of top destinations including the University of Cambridge and Kings College London.
Budding vet Connor Lamb is off to the University of Cambridge. Connor, who has studied at both UTC Sheffield City Centre and UTC Sheffield Olympic Legacy Park, will be starting his studies at Cambridge University after securing top grades in his A Levels.
Connor studied A Level biology, chemistry, physics and maths achieving grades A, A, A and A. He also gained a distinction in the Level 3 applied science technical qualification that he studied alongside A Levels.
Connor said: "I'm happy, really happy with what I've achieved. For me the best thing about the UTC is how the teachers treat you, having smaller classes and being a smaller school means they can focus on you and give you the support you need."
UTC student Abby Hodkin is jetting off to America to continue her sporting ambitions. Abby has achieved a triple distinction star in her sports science technical qualification.
She is now travelling across the Atlantic to study exercise science at Grace College in Indiana on a soccer scholarship.
Abby said: "There are far more opportunities for women's football over there than there are here, there's more chances for training and playing professionally."
Abby joined the UTC in Year 10. She added: "The UTC is a lot better for sport. The facilities here were better than my old school, like having the gym, and the options focused more on what I wanted to do. The staff here are more focused and willing to help you, they support you with your learning style."
Finlay Barker is off to Manchester Metropolitan University following his studies at UTC.
Finlay has just completed a Level 3 technical qualification in sport and physical activity and has achieved a triple distinction star as well as an A Level in computer science.
He said: "I'm really pleased and looking forward to starting university."
During his time at the UTC Finlay undertook a work experience placement at Sheffield Hallam University's Advanced Wellbeing Research Centre which is based parallel to the UTC.
Finlay added: "Work experience is one opportunity I've had at UTC. I think the school being based on Sheffield Olympic Legacy Park means we have better access to these opportunities. They are on our doorstep."
Jess Stevenson, Principal of UTC Sheffield Olympic Legacy Park, said: "I am incredibly proud of our students. It is great to see them progress to the next exciting stage of their lives including some top universities on highly competitive courses."
She added: "The UTC experience of studying academic and technical qualifications, and working with industry experts and employers, provides our students with many additional technical, problem solving and team work skills that will equip them well for their future careers."
At the UTC, on Old Hall Road, students work on employer-led projects, developing skills related to their subject specialism as well as team working and problem solving.
The UTC is backed by employers who have shaped the curriculum and provide industry projects, work experience and work placements. It is one of two UTCs in the city.
Employers supporting the UTC include including the Advanced Wellbeing Research Centre, Palo Alto Networks, Medilink UK, Sheffield Teaching Hospitals NHS Foundation Trust, Sheffield International Venues, Westfield Health, Sheffield Hallam University and the University of Sheffield.
UTCs are government funded technical schools that provide academic and technical qualifications to match the skills needs of regional employers, supporting economic growth and employment.
Young people can join the UTC in Year 9 at the age of 13 or in Year 12 at the age of 16.
The UTC is sponsored by Sheffield Hallam University, Sheffield Chamber of Commerce and The Sheffield College and has capacity for 600 students.
UTC Sheffield Olympic Legacy Park is part of The Sheffield UTC Academy Trust, which also includes UTC Sheffield City Centre and UTC Derby Pride Park based in the East Midlands.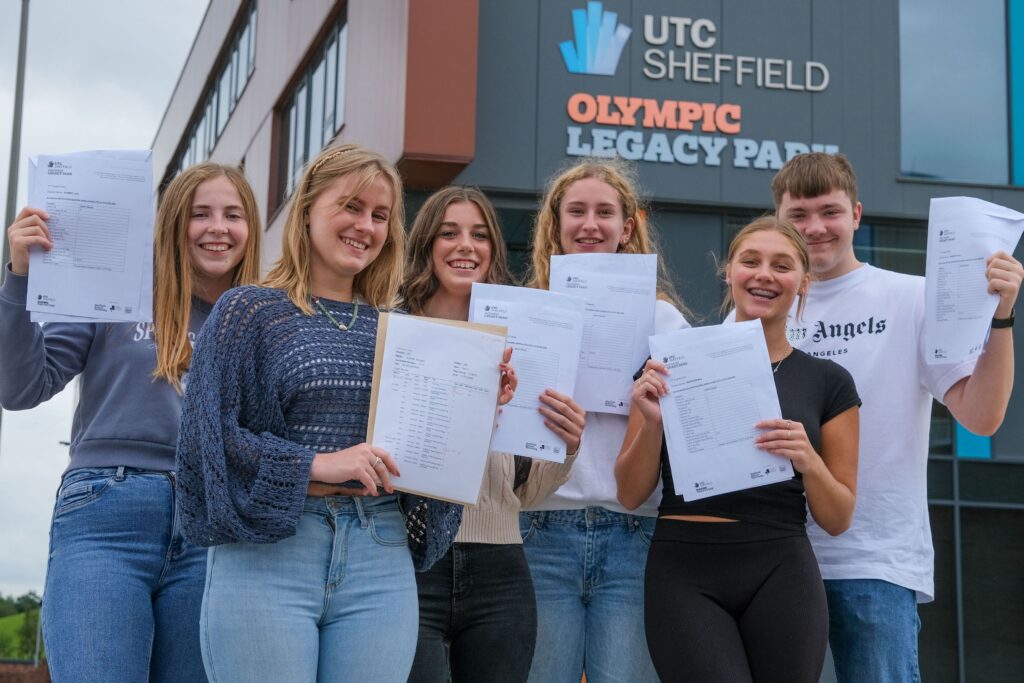 UTC Sheffield Olympic Legacy Park students celebrate A level and technical results