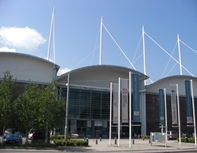 The Olympic Legacy Park (OLP) is aiming to become an internationally recognised Innovation District for health and wellbeing research and learning.
And with the recent addition of two world-class sports venues in the English Institute of Sport Sheffield (EIS Sheffield) and iceSheffield, which are both part of Sheffield City Trust, it is well on the way to achieving this.

Sheffield City Trust is a charity whose sole purpose is to improve the health and wellbeing of the people of Sheffield, so for us, becoming a part of the OLP was a perfect fit.

EIS Sheffield is the country's largest multi-sports training centre boasting a state-of-the-art gym, indoor athletics arena and sports halls for everything from taekwondo to table tennis. It's also home to a number of world-class athletes including Olympic champions Jessica Ennis-Hill and Nicola Adams.
iceSheffield houses two Olympic-sized ice pads and offers a variety public sessions and lesson programmes teaching ice skating, speed skating, curling and ice hockey.
The venue's Academy of Excellence is home to some of the country's top skaters and was used as a preparation camp for Team GB's Winter Olympic figure skaters and skeleton athletes ahead of the Sochi 2014 Games.

With the inclusion of EIS Sheffield and iceSheffield, the OLP will be home to the only research facility in this country with elite and professional athletes, research and educational organisations all in one location.

Both venues have helped Sheffield to develop a global reputation for sporting excellence and encouraged millions of people to get involved with physical activity. As part of the unique Olympic Legacy Park, we're looking forward to building on these Sheffield success stories.