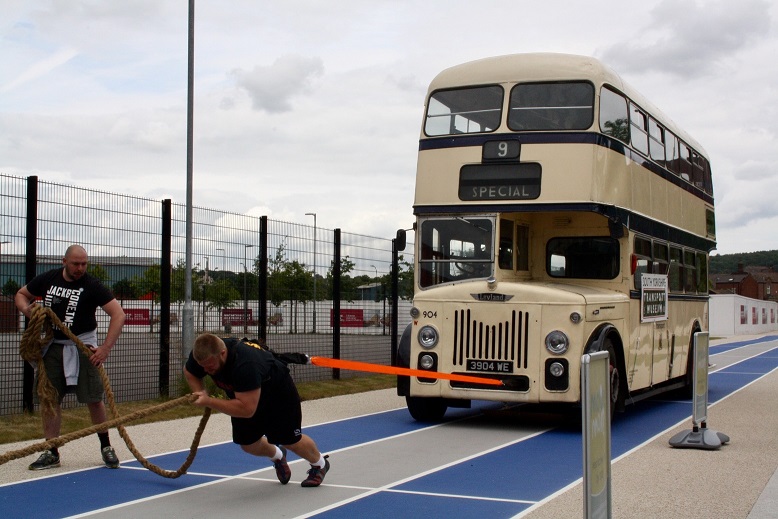 We all know that moderate to high intensity physical activity is a great way to keep fit. Typically, when we think of exercise we think of walking, running, swimming, cycling, jogging – anything that gets the heart rate going. And while they're all great ways of keeping in shape, they're by no means exhaustive of the range of things you can do to move more.

You don't automatically think of heavy lifting as a means of keeping fit – and that's where I come in!

This is why I chose to take part in Move More, because I for one know that not everyone wants to go running or swimming. I want to show people there is more to physical activity than immediately springs to mind.

I mean, I'm not saying everyone should pull a 20-tonne vehicle to keep fit, but weightlifting is a great example of a sport that's a bit different and can be great fun.

I first started competing in strongman competitions back in 2011 in my late teens, and began competing in regular open divisions from 2013. Overall, I would say it has been a successful few years. I won England's Strongest Man in 2016 and have enjoyed many a podium finish such as Britain's Natural Strongest Man and UK's Strongest Junior.

I'd never have achieved what I have if I hadn't been taught from an early age that there are so many different ways of keeping fit. This is why I joined in with Sheffield's Move More Month again. It was fantastic to be back and showcasing what you can achieve through physical activity – especially if you think outside the box.

Each year, Move More Month offers a range of mass participation events to try and change the way people think about physical activity. You don't have to do it alone and there's plenty of support there if you need it. I want to help change people's attitudes towards fitness, improve society's knowledge of physical activity, prove to people that exercise is fun and encourage people to get creative when it comes to moving more.

At the Move More strongman event at Sheffield Olympic Legacy Park, as well as seeing a great turnout for my two bus pulls, it was an incredible feeling to see people try out weightlifting after watching the display by Hallam Barbell Weightlifting Club.

A lot of the time people are scared of the unknown, and they're far more willing to try out new things and have a go when there are experts on hand to help out and offer advice.

Physical activity is always far more engaging when it's fun and interactive. I love the outdoors and I love to laugh, but most of all I love lifting heavy objects – so it's all about doing what you love best.